Welcome to the Journal of Hearing Science ®
Dear Colleagues,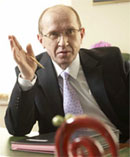 Journal of Hearing Science
is dedicated to current peer-reviewed scientific research in all areas of

Otolaryngology, Audiology, ENT (ear nose throat), Phoniatrics, and Rhinology

. Its primary mission is to offer an international forum for professionals; a secondary aim is to assist hearing practitioners by providing important knowledge helpful to patients with hearing, voice, speech, and balance disorders.
Journal of Hearing Science is issued on continuous basis as a primary on-line electronic journal. The journal is an open access publication which allows all readers around the world free access to articles. Moreover, there are no publication fees or page charges. Before acceptance for publication, each manuscript is subject to critical review by leading authorities in the field.
JHS has a distinguished International Advisory Board and an impressive Editorial... read more
Volume 6(2) 2016


Beata Miaskiewicz, Elzbieta Wlodarczyk
(Institute of Physiology and Pathology of Hearing, World Hearing Center, Warsaw/Kajetany, Poland)
JHS 2016; 6(2): SR68-68
ID: 901399
ABSTRACT: The 12th International Brain & Voice Symposium was held on 26–28 August 2016 in Salzburg. The conference was organized to celebrate the 20th anniversary of the Austrian Voice Institute. Dr. Josef Schlomicher-Thier and Dr. Matthias Weikert were the hosts and organizers of the meeting, which attracted participants from all over the world. Notable experts on voice disorders took part: Robert Sataloff, Markus Hess, Per Ake Lindestad, Craig Zalvan, Peak Woo, Eugenia Chavez, and Krzysztof Izdebski. Lectures and round table discussions allowed participants to exchange knowledge and experience.

Keywords: Hoarseness, Speech, Alaryngeal, voice disorders

Rafal Milner, Agnieszka Dubikowska
JHS 2016; 6(2): 66-67
ID: 900361

Beata Miaśkiewicz
JHS 2016; 6(2): 65-65
ID: 900082